New classrooms
Our latest venture is the signing of a 50-year lease on the adjacent Cowes Youth Centre, bringing new sports and leisure facilities to UKSA and the local community. We have refurbished the site to create a bespoke learning environment that provides a unique maritime training experience.
The centre now offers modern classrooms with up-to-date technology, upgraded Transas suites providing a valuable learning environment in which to sharpen your navigational ability and skills. You can practice command skills, navigate in all weathers and learn to understand radar systems. As well as the Superyacht Galley, there are also breakout areas for quiet study time.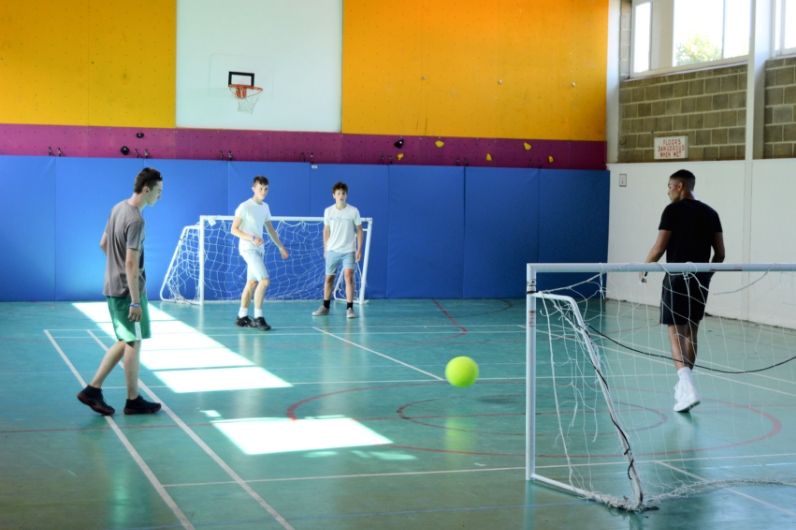 Sports facilities
As part of the site development we have completely refurbished and brought back to life our full-sized sports hall. This provides a wonderful space for our younger people to enjoy activities in the evenings as well as providing a much needed facility for the local community and Island children. For added fun a half-sized climbing wall has also been brought back to life.
Superyacht Galley
We know that working in the interior of a yacht is a very different experience to land based hospitality. We always want to provide our students with the very best learning experience. Therefore we have created a unique superyacht galley with fixtures and fittings mirroring those you would find on board a boat. With laundry areas, a fully fitted kitchen with a wine fridge and space for flower arranging, our students can hone their skills in the perfect environment.
"These new facilities are great" – Vanessa Hodgeson – Hospitality Course Delivery Manager
Gymnasium
We are passionate about the health and well-being of our students and staff. Therefore we have created a fitness and well-being package that all of our students can access during their time with us. This includes, for a small fee, access to our newly renovated gym as well as a programme of yoga and training sessions. Some of the equipment inside the gym includes a running machine, free weights, step and cycle machines and a multi-gym.
"The new gym at UKSA has helped me maintain my healthy life-style whilst living away from home. I can easily include a quick session before my classes start, it's very convenient." – Professional Yachtmaster Student
Simulation suites
We have two simulator suites with 10 independent work stations running the latest version of the TRANSAS simulation software. We have simulations for a variety of locations around the world ranging from Sydney Harbour to New York to the Norwegian Fjords. This is to ensure that as a learning experience our instructors provide all of our students with experiences to cater for very different navigational challenges.
We have also installed September 2019 an assortment of different vessels from work boats to superyachts and even cruise ships. We can run the simulator bridges as a fully integrated electronic bridge or by traditional paper navigation means.