Work placements on superyachts beckon for UKSA's Superyacht Cadets who graduated from the first phase of their training last week.
An awards ceremony was held to give the 29 cadets a send-off and hand out the certificates they have accumulated so far, including their RYA Yachtmaster. The Cadetship Ceremony was attended by proud parents and maritime industry professionals.
The Cadets started UKSA's flagship Superyacht Cadetship four-year course in October. It is a finely structured career course which combines phases of training with paid work placements on superyachts, and includes a Foundation Degree in Operational Yacht Science delivered in conjunction with Falmouth Marine School, validated by the University of Plymouth, and available to apply for through UCAS.
Emma Baggett, UKSA's Industry and Cadetship Manager, said: "This ceremony marks the end of an intense six months for the cadets, and sees them ready to take that step forward into the superyacht industry as they launch their professional career. They take with them all the benefits of having had the most relevant training, mentoring, and personal support. With the first year of a degree and their Yachtmaster under their belts they have achieved a lot and experienced a highly pressured and focused learning environment. Additionally they have forged lifelong friendships and contacts, and they are armed with the right attitude and manner needed to successfully enter the industry."
She continued "Here at UKSA we can assist the cadets in securing their first position on board thanks to our dedicated industry guidance team and the support of leading crew agents. We will be here for them as they progress within the industry, and we look forward to welcoming them back for their future phases."
Among the main awards were: Best Crew: Vertigo – Tory Armstrong, Jack Dykes, Charlie Turner, Toby MacDonald and Jamie Guerriero. Captain's Family Office Top Cadet: Dan Marks. Top Academic Cadet: Daniel Snook. Special Academic Awards: Tory Armstrong, Charlie Turner, Charlie Waltho.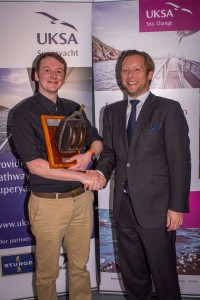 Photo shows Captain's Family Office Top Cadet Dan Marks with Captain's Family Office's Mark Upton. 
Some of the cadets have already secured work placements, including Ashley Redwood, Jaime Guerriero, Sam Sherry, Rowena Macqueen and Drew Harrison.
A new bursary scheme was recently launched to help aspiring young seafarers access the Cadetship. UKSA, in conjunction with The Trinity House Maritime Charity, launched The Superyacht Cadetship Bursary to help young people who have the potential but not necessarily the funds to access the training.
There is one Cadetship intake each year, in October. There is a selection process at various points throughout the year.