Double Olympic Gold Medallist Sarah Ayton OBE, is an Ambassador to UKSA.
My rersonal road to Olympic Success
My parents encouraged me to believe I could achieve anything if I worked hard enough. I took a no compromise approach and from a young age, was prepared to do whatever it took to achieve my goal. By the age of 18 I had become Britain's most successful female single-handed sailor winning Silver at the ISAF Youth World Championships. I went on to win my first Olympic Gold medal at the 2004 Athens Olympics with team-mates Shirley Robertson and Sarah Webb in the Yngling class.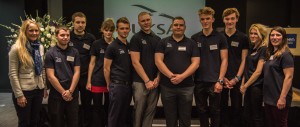 In 2005 I was awarded an MBE and announced her 2008 Beijing Olympic campaign where I would move from the front of the boat to back and lead my team. Known as 'three blondes in a boat', we were on our quest for Gold.
My ambition for the run-up to the Beijing Olympics was summed up as 'Domination' – to arrive at the 2008 Olympics unbeaten. This was accomplished, winning two World Championships, European Championships and being ranked World Number One. And in Beijing, I became part of an exclusive group of Olympic athletes by winning Gold medals at two successive games. In 2009, I was honoured to receive an OBE.
Helping UKSA on their #SeaChange journey as an ambassador
Sarah explained; "It is a real pleasure to have been appointed an ambassador for UKSA. I am excited about sharing my values with the charity and helping them on their #SeaChange journey.
UKSA uses sailing and watersports as a catalyst to help young people develop themselves and this is something I strongly believe in. I am very happy to be lending my support to such a fantastic charity."
Ben Willows, UKSA's CEO, commented; "We are thrilled to have Sarah onboard supporting UKSA and we look forward to working closely with her in the future. Sarah is a fantastic role model for our students. We are looking forward to working with Sarah and our other Olympic Ambassador Gold Medal Paralympic sailor, Helena Lucas MBE, to inspire our students."
Sarah, who won Gold medals in Athens and Beijing games in the Yngling Women's three-person keelboat, has also competed in the Extreme Sailing Series onboard Oman Sail.