Getting back on the water
UKSA Guidelines for Education Students
COVID-19
Statement from UKSA's Chief Executive Officer
As we continue to navigate through these unprecedented and changing times, UKSA has reconfigured its operations to ensure we can sustainably and responsibly deliver quality and safe training for our beneficiaries and students in a COVID-19 compliant way.
We know that the COVID-19 crisis is far from over and that we are not entering into a 'business as normal' phase.  This means that the social distancing measures which will remain with us for the foreseeable future have resulted in us being able to accommodate significantly fewer numbers of customers and beneficiaries on site at any one time.
In order to keep everyone safe as possible, we have introduced a number of additional hygiene and safety measures to help reduce the risk of infections.  We will be asking all those who visit us to respect each other, our employees and our guidelines on maintaining good hygiene and a safe social distancing.
On the following pages we have provided details of the hygiene and safety measures we have introduced on the UKSA site to provide peace of mind to our staff and visitors.
All Covid related policies and procedures are subject to change without prior notice depending on Government guidelines and operational requirements.
Thank you for your support.
UKSA Covid-19 Protective Measures Statement
UKSA will not tolerate students or staff who fail to adhere to the Academy's Social Distancing rules and do not keep within their assigned cohort. It is everyone's responsibility to stay alert to this life-threatening infection. Everyone is responsible for taking safety measures including following government guidelines immediately if you develop COVID-19 symptoms. Failure to behave appropriately or to not report COVID-19 to UKSA may result in being expelled from the Academy. You are putting at risk yourself, UKSA staff and students by not adhering to these rules.

Pre-Arrival
As part of our commitment to keeping students and staff as safe as possible we have implemented a process of COVID testing.
We will be asking all students to obtain an NHS Lateral Flow test before their arrival at UKSA and provide evidence of their negative COVID test result. These can be obtained online from at the following link https://www.gov.uk/order-coronavirus-rapid-lateral-flow-tests
The date on the test should not be more than 24 hours before your arrival at UKSA.  This will be the date you receive the result via text and email. It is important that you allow time to order and take the test. Therefore, we recommend that you order your test kit now. Once you complete the test and register it on the NHS app you will receive the result confirmation text within 30 minutes. Once you have this result please email it to [email protected]
24hrs prior to arrival you will receive a telephone call to confirm receipt of your COVID Lateral Flow Test and ascertain if you have symptoms of coronavirus or have been contacted by NHS Track and Trace. At the discretion of UKSA, persons may be refused entry onto the course.
We will also ask for proof of your double vaccination certificate. This would mean that people who are contacts of someone who tests positive, and who are "double vaccinated" would not have to automatically self-isolate but could continue as normal, subject to daily testing and a negative PCR test.
In addition to this and as part of our standard joining instructions, we ask that you complete the online Student Medical Declaration & Consent Forms within your course joining instructions email.
On Arrival
UKSA commenced the construction of a brand new 136-bed accommodation centre in March 2021. To ensure safety of all, the entrance to UKSA main site has been moved 500 yards along Arctic Road to the UKSA training centre. Please follow the signage provided. Under no circumstances can entrance or exit be made through the old entrance.
Please maintain social distancing upon booking in at reception.  Please only approach reception when called by the receptionist.
We have introduced COVID testing for both staff and students. You will be required to take one COVID lateral flow 15-minute test every 3 days. You must provide your own lateral flow tests via the UK government website or a pharmacy. Testing can play an important role in identifying asymptomatic transmission of COVID.
We will also immediately test anyone who displays symptoms of COVID. On receipt of a positive LFT result you will be asked to leave site to take your PCR test and to isolate.
Accommodation
Students will be allocated accommodation according to their student cohorts.
Student Cohorts
Each student cohort will be identified by a single-coloured lanyard.
Each cohort will remain together at all times other than by permission of their UKSA Staff member for the purposes of toilet break or use of shower facility. Each cohort must remain at least 1 metre apart at all times and will not mix with people outside of their cohort.
Each cohort will go direct to their designated classroom/yacht at the beginning of the day. Equipment and tools should not be borrowed or lent to anybody outside of your cohort.
Use of the UKSA Dining Hall
To ensure social distancing is maintained each student cohort will be allocated a dedicated time to enter the UKSA dining hall for breakfast, lunch and dinner.
Each student cohort will be allocated 15 minutes to use the dining hall, this is to ensure that all students have the opportunity to use the dining hall while maintaining social distancing. Please ensure you abide by these guidelines for the safety of all students and kitchen staff.
The dining hall will be out of use for UKSA staff other than instructors.
Leisure Time
The laundry will remain open for use. Tokens can be purchased from reception.
UKSA is not able to restrict students from leaving the site during their leisure time, but we must insist that you maintain social distancing at all times when off site.
Cash Free Site
To avoid the handling of cash and coins, UKSA will be a cash free site. All transactions must be made by card.
Cleaning at UKSA
UKSA implements Virus Shield 'Control' regularly across the whole site, this is an electrostatic spraying technology which creates a fine mist, covering surfaces with a 'Teflon' type coating. It kills a wide range of viruses and bacteria including Coronavirus. This system is used throughout the NHS including hospital wards, airports, offices and schools.
UKSA's housekeeping team will undertake a revised cleaning regime of all public areas and accommodation. All laundry is cleaned off site by a professional external provider.
Hand sanitisers are provided across the UKSA site.
Social Distancing
We ask that all staff and students maintain a 1m distance rule wherever possible.
Failure to behave appropriately may result in being expelled from the Academy. You are putting at risk yourself, UKSA staff and fellow students by not adhering to these rules.
  Ventilation
Covid-19 is a virus spread through the air. Good ventilation both during the summer and in winter helps to reduce this. Windows in classrooms/offices during winter months should be opened on the latch for ten minutes every hour.
COVID-19 Symptoms or Positive Lateral Flow Test

We have provided our emergency action plan flow chart below:
Please click image to enlarge.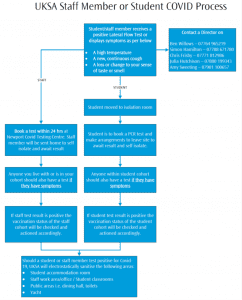 Additional Information
Our COVID-19 policies can be provided upon request.
This information page was updated on 09/12/2021