Six young people have been given an incredible opportunity to improve their prospects, overcome the barriers to employment and become more independent.
A £10,500 project jointly funded by Spectrum Housing Group and the Hampshire and Isle of Wight Community Foundation (HIWCF) enabled the young people from Spectrum Housing Group's Foyer in Ryde to undertake one of our engagement programmes.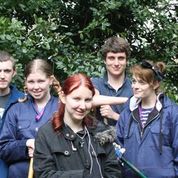 Unlocking Potential has previously been for young offenders and had a 91% success rate (those not re-offending after completing the course) but the four-week course has now been undertaken by individuals from within the local community who were identified as requiring additional support.
The Foyer has worked with UKSA on a number of occasions in the past, including on The Prince's Trust Team programme, which achieved some very positive outcomes. It was decided to try the Unlocking Potential course.
A selection day was held and 14 residents took part, with six being selected for the full programme. All the activities are aimed at developing team work, independence, confidence and self-esteem.
The first week is spent on-site at UKSA, where on a residential the team bond and take part in a week of watersports and team building exercises, then the second week is spent out on a yacht for a sail phase. There is already a sense of achievement when they enter their third week, a community development activity to help them make a difference. This group spent the week cutting back an overgrown area at Church Lodge, Northwood House, to enable easier access for future renovation work.
Finally, they returned to the now-familiar UKSA on a week of work experience, building their knowledge and understanding of the workplace, and helping the charity in departments such as maintenance and the busy kitchen. The focus this week was also on outcomes and moving forward, looking at suitable destinations for a better future.
UKSA's chief executive Richard Thornton said: "This course has been very successful previously, using on-the-water activities as the catalyst for positive change. Participants build confidence and self-esteem, overcome challenges by working as a team and experience the structure of a busy working day.
"This all helps them overcome barriers to employment and become more independent. We provide a dynamic and supportive environment and show people there is more to life than what they have experienced so far. It is an excellent course and we are thrilled to see it rolled out into the wider community after its original inception as a course for young offenders."
Duncan Breckell, Employment and Skills Manager at Spectrum Housing Group said: "This UKSA pilot programme is a fantastic course and Spectrum is pleased to be providing funding. We hope it will lead to more courses that engage with our residents, helping them to move closer to the job market. It was great to meet the participants and we look forward to working with them after the course to achieve some sustainable outcomes."
One of the participants was Charlotte Larcombe, 20, who has been out of work for two years. She jumped at the chance to do the course as she had never done anything quite like it before, and certainly had no sailing experience. She said: "I'm normally very introverted but I have now found that I work OK with people. This was the first time I have really had to work with a group but I enjoyed it. Usually I am indoorsy so this has been something completely different, and it has been something good to add to my CV. It's built my
confidence a lot, I'm glad I signed up for it."
David Holder, 19, has been living at The Foyer for six months and said he wanted to do the course as soon as he first heard about it. "It sounded just my sort of thing," he said. He had done some dinghy sailing in the Army Cadets and had missed it and was keen to get back into it. He loved the whole experience and although he has wide and varied interests he is keen to get a job working at an activity/adventure centre.
Mark Barrett, 20, said the course had improved his lifestyle for the better just in a couple of weeks. He explained: "I was interested in it straightaway as I like getting out and being active, but most of the activities were new to me. It was fun but it has helped me change, it has improved my sleeping pattern as I never used to sleep very well but it has got me more into a routine. It's got me back to how I used to be. I think it would help most of the people at The Foyer to be honest."
Mark will spend his final week doing work experience at UKSA, in boat maintenance, which is an industry he might be interested in working within, as he is keen on construction and building but hadn't considered maritime before.
Sid Thwaite, 18, wasn't too keen on the sound of the course to start with and didn't have high expectations. In fact, it's fair to say he was a bit dismissive of it. But he has since changed his mind. He explained: "It's actually pretty good. It started with the watersports activities which got everyone motivated then we were stuck on a yacht all week really having to get to know everyone. The
gardening week was more my sort of thing as I was able to crack on and get it done. The course has been better than I thought it would be and I'm definitely glad I did it."