Superyacht Stewardess and Steward Training Course
Do you want a career in luxury hospitality? Travel the world and visit the most beautiful places from the Mediterranean, Caribbean and Indian Ocean?  Discover the little gems that the world has to offer in the most remote places you would never normally visit?
You don't need to love sailing or have any experience on boats, you just need a passion for hospitality and a desire to travel.  This career path pays well and you could be earning up to €2,000 – €2,500 a month, which means your course fees are paid off within two months of starting employment! A great alternative to university and what better way to see the world!
About the Superyacht Interior Foundation Course
This course provides aspiring yacht stewards, stewardesses and cooks with the skills to deliver exceptional standards of service on-board luxury superyachts.  Our instructors are renowned with this elite industry,  you will receive the best training possible to prepare you for working in the world of superyachts.
What's included:
Our price includes all your food and accommodation.
Industry Guidance throughout your career
Interview and job preparation
Interviews with crew agents on site
Duration:
3 weeks – with popular additional bolt-ons also available
Course overview:
The world's luxury superyachts provide the perfect environment in which to deliver the ultimate standard of service, often in the world's most glamorous locations. Our Superyacht Interior Foundation course will prepare you with the skills needed to excel in this environment, together with the essential STCW Basic Safety Training for work onboard the world's largest luxury yachts.
There's currently huge demand for qualified  stewardesses and stewards, our Industry Guidance team are here to support your career progress and to guide you in finding the right job for you.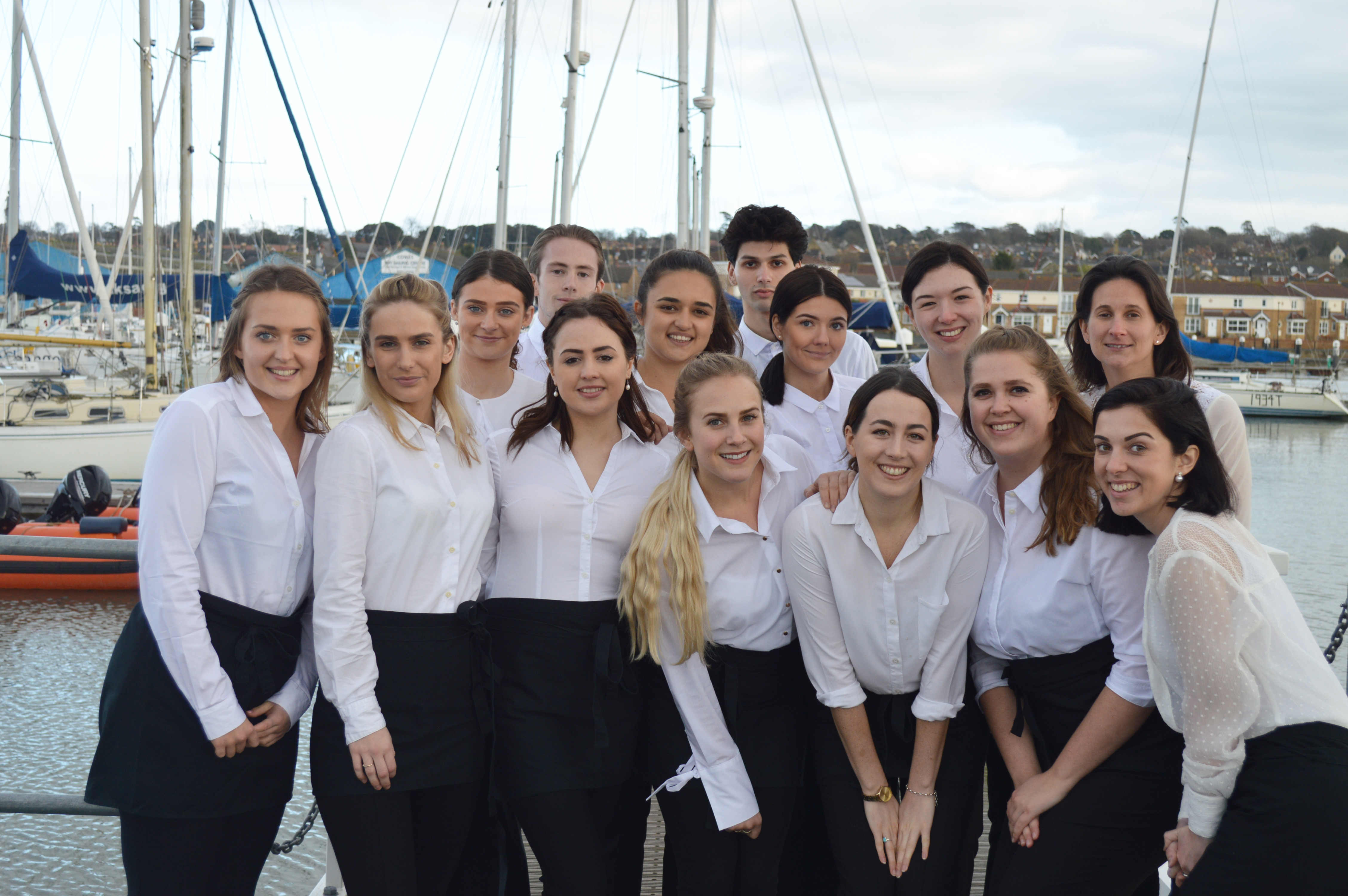 Qualifications:
Superyacht Interior Foundation certificate
Foundation Food Safety certificate
STCW Basic Training

MCA Personal Survival Techniques
MCA Personal Safety and Social Responsibility
MCA Fire Prevention and Fire Fighting
MCA Elementary First Aid
Course Benefits
This course has many benefits for a budding yacht stewardess or steward. Here are just a few:
A broad and comprehensive syllabus, delivered by top hospitality and maritime specialists
Unparalleled Industry Guidance and mentoring
Prepares you for a service career with opportunities to live on luxurious yachts and travel to some of the most spectacular areas of the globe
Train to deliver the level of service to which most 5 star hotels aspire
Popular with individuals transferring from other hospitality-related careers, as well as couples looking to work together in the industry
Develop your ability and passion for delivering a level of service beyond first class
Huge demand for high calibre staff in this sector
AND it will put you on a path to a job where you could earn up to and over €2,000-€2,500/month, with no rent, bills or significant expenses
Superyacht Hospitality Training Course Syllabus
Personal presentation, professional etiquette and protocol
Housekeeping and detailing/superyacht cleaning
Laundry and Ironing
Life onboard
Health and Safety onboard
Table management, placement and settings
Styles of service, courses and order of service, buffets
Bar tending, including spirts and cocktails and wine appreciation, covering product knowledge of wines and ports and cigars
Understand the high standards required for catering on yachts
Event planning and execution
F&Q's
What qualifications will I need?  There are no prerequisite experience necessary and you don't have to sail!
Is this qualification recognised within the industry? Yes this course is accredited by the Professional Yachting Association (PYA) and includes the essential STCW basic safety training for work onboard.
Will I get to travel the world? The world's luxury superyachts are often in the world's most glamorous locations, so with this career you get to travel and live the dream.
What is life on campus like? Day to day life at UKSA is fairly routine but try out new things every day as the classes are always different. In breaks and downtime you get to socialise with new friends and with people already working in the industry. It's a lot of fun and you are likely to make friends for life!
Funding Options
As a charity, UKSA are committed to removing the financial barriers some people may face. To see a full list of all of our funding opportunities visit our funding opportunities page. Alternatively talk to your course advisor who will be able to assess your eligibility and put you forward for suitable bursaries.
Two bolt-on options are available
As a bolt-on option you can elect to take the five-day Superyacht Cookery Foundation course, this course will teach a repertoire of delicious meals to impress, and will improve your confidence and enjoyment when catering for guest and crew. With instruction from expert chefs and professional yacht crew, the programme provides a sound knowledge in basic cookery and preparation skills.
You can also take the five-day RYA Competent Crew which will put you at an advantage, as you will gain that extra knowledge to make you an active and useful crew member. During this course you will cover approximately 100 miles, including four night hours on watch.
Graduates story
For more detailed information about the Superyacht Interior Foundation course please attend an open day or register interest using the links on the right.  You can also read about this course from a graduate Isabella Joiner