Steve Rouse has risen to the gutterboat challenge.
Going above and beyond the call of duty as UKSA's principal lecturer, Steve has impressed everyone with his out-of-hours dedication to the charity's latest fundraiser.
Not one to do a job by halves, Steve arguably takes the award for UKSA's most engaged member of staff where gutterboats are concerned.
UKSA are inviting members of the public to make their own miniature boats and bring them along to race at their marquee in Cowes Yacht Haven during Aberdeen Asset Management Cowes Week. They are also providing little boats to charter.
Steve took on the challenge of making a couple of boats but in typical Rouse-style he surpassed expectations and made these beauties, in the process turning wife Christine into a gutterboat widow over the last fortnight while he perfected his craft.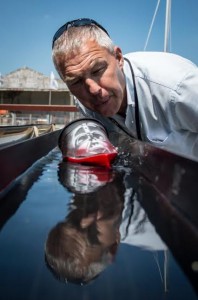 Boat One is a monohull made of balsa wood, an aluminium strip and half a flowerpot – proving gutterboats can be made of any material (within an A5 size specification so they fit into the gutters). It has been lovingly lacquered and waxed and features a textured deck. Finishing it off with a Darth Vader image, the attention to detail didn't stop there. Steve produced a certificate of authenticity, and made a shipping container style box complete with labels stating the design and build details.
Boat Two is even more visually impressive – a catamaran with an 8" dowel rod for the mast, forstays made of whipping twine and brass eyelets and a main sail made of Kevlar. Both boats will be put up for auction following the regatta, so get your bids into Steve on [email protected] if you want to purchase your own piece of UKSA history.
Steve wonders if anyone else can come up with a better design?
If you're suitably impressed and want to donate to UKSA's fundraising campaign go to https://www.justgiving.com/gutterboatracing14/ or come to our marquee to charter these incredible vessels.