UKSA, has celebrated its 30th anniversary at Trinity House in London, with Charity Patron HRH Princess Royal as guest of honour.
HRH Princess Royal was very complimentary of the waterfront centre in Cowes: "UKSA helps fulfil a whole range of skills we need in the maritime sector. There is something really inspiring about the place, and the opportunity that it offers young people."
The event saw nearly 200 people in attendance, including the charity's supporters, trustees, ambassadors and past students. The 30th anniversary of the charity also coincides with the 150,000th student being welcomed through the doors at UKSA.
HRH Princess Royal addresses the room at Trinity House.
UKSA's CEO Ben Willows said: "This is a momentous achievement for everyone involved with UKSA, from our dedicated staff, to our delivery partners and supporters, to our students. I would like to thank each of you for your continued support over the last 30 years as we have evolved from a centre offering dinghy courses to 1,500 children each year to a becoming the UK's leading maritime training centre and transforming the lives of more young people than ever."
The celebratory event was hosted at Trinity House, home of the organisation dedicated to safeguarding shipping seafarers, and who have a long-term partnership with UKSA to offer financial support for maritime training. In addition, Aberdeen Standard Investments, a long-standing supporter of UKSA, lent their support by sponsoring the evening's festivities.
Aberdeen Standard Investments Global Head of Distribution Campbell Fleming said: "Since being founded in 1987 by Noel and Sylvia Lister, UKSA has not only inspired young people to get into sailing, it has transformed young people's lives, so we're delighted to be able to support their 30thanniversary celebration. We are proud to see the results from our support of UKSA and are pleased to have played a small part in changing lives – giving people new aspirations through the power of the sea."
UKSA not only celebrated the 30th anniversary, but also launched their ambitious capital investment programme plans at the event. The plans will help more young people transform their lives at UKSA, thanks to improved accommodation and facilities for the 10,000 people that come through their doors each year.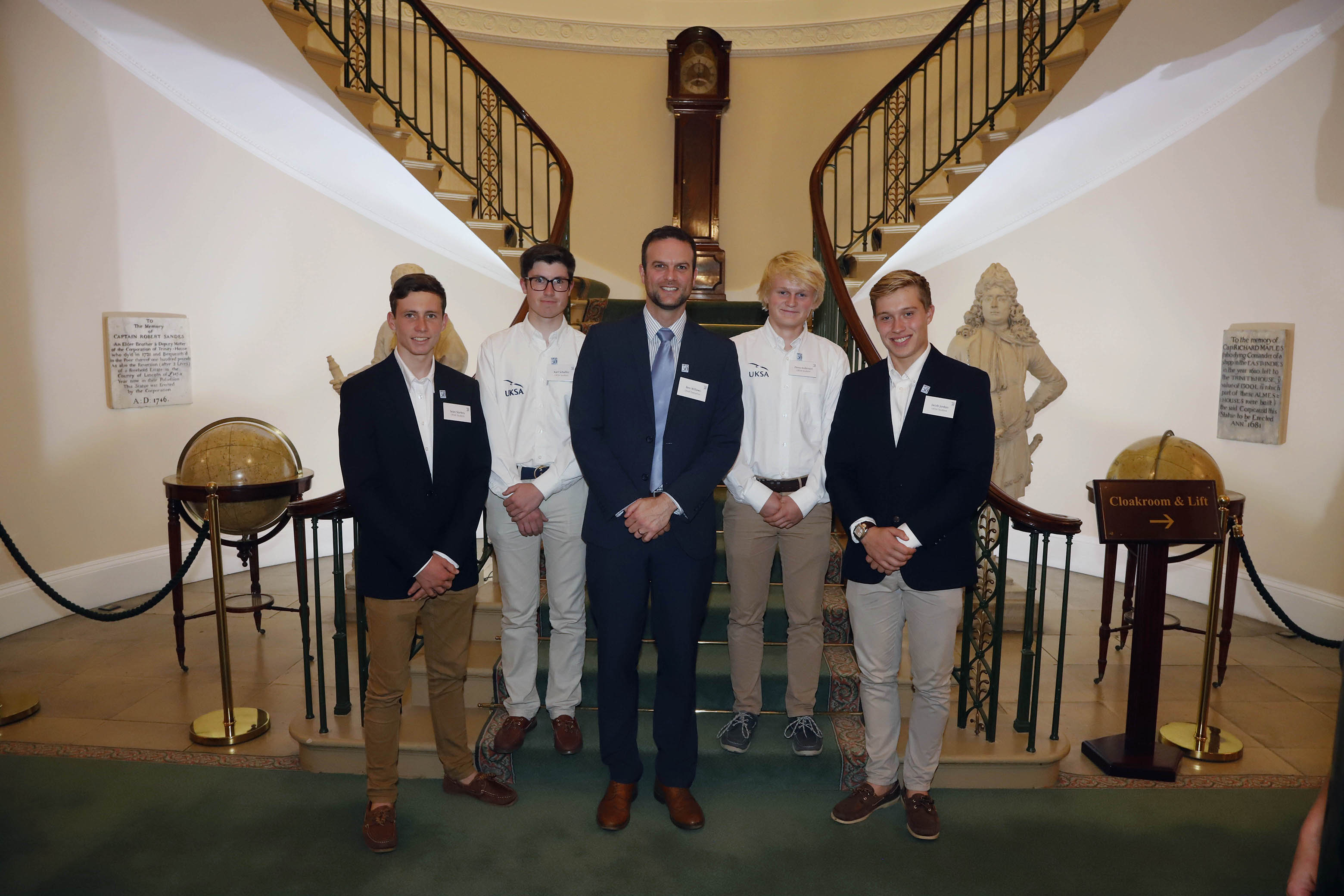 UKSA students Sean Starkey, Karl Schaffer, Perry Anderson and Jacob Jordan with CEO Ben Willows (centre) at UKSA's 30th anniversary celebration at Trinity House.
Ian Walker, double Olympic medal winner, reigning Volvo Ocean Race winning skipper, and RYA Director of Racing, attended the event and said: "UKSA's contribution to the sport of sailing is immense, but their contribution to the lives of so many young lives is even greater. Giving opportunities within the sport to young people in need is immeasurable. Right now the UKSA site is, unfortunately, under-utilised due to age and changes in regulations – so with this investment they will be able to provide their charitable works to so many more people."
HRH Princess Royal encouraged the attendees to help, she said: "In the long term it is so important that the site is improved, and it is the opportunity for you to help make the difference to young lives. In order to be able to spread the ability to encourage, to teach, we need to supply the appropriate levels of accommodation."
UKSA CEO Ben Willows said: "Our capital investment programme will allow us to change the lives of more young people. The first phase of the programme will create flexible modular accommodation on our site with work beginning in late 2018. The improved facilities will enable us to train more youth groups, young apprentices and professional clients. We are delighted to be in the presence of those who are helping to turn this vision into a reality."
UKSA Timeline:
October 1987: Noel and Sylvia Lister purchase the National Sailing Centre, Cowes, and invest £4 million to start UKSA. 1,500 school age children visit each year to learn dinghy sailing.
1992: HRH Princess Royal becomes UKSA's Charity Patron.
1994: As the watersports industry grows, UKSA starts offering watersports instructor training for school leavers and young people.
1995: First yachts purchased to begin Royal Yachting Association (RYA) professional and leisure yacht training at UKSA.
2000: Professional maritime training offered at UKSA in conjunction with the Maritime and Coastguard Agency (MCA).
2003: The Lister Building opens to accommodate more young people and maritime professionals training at UKSA.
2017: 10,000 people a year now visit UKSA and the 150,000th student is welcomed through the doors. UKSA celebrate 30 years of excellence and launches capital investment programme.