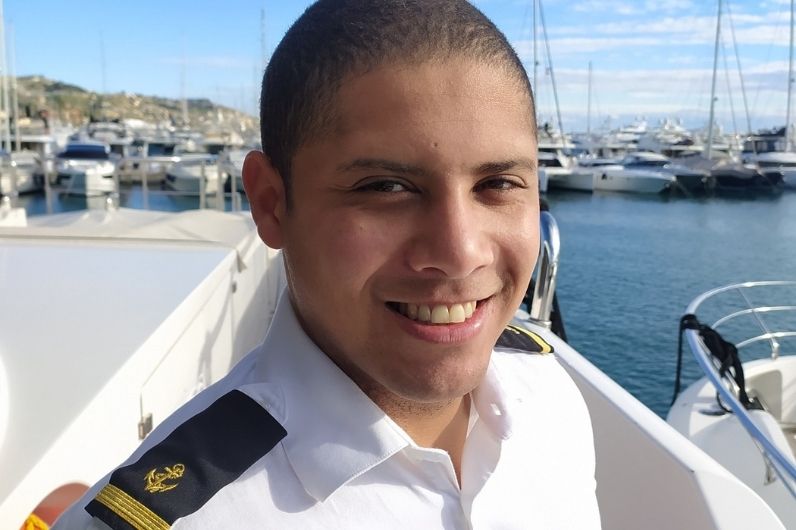 If you enjoy the water, adventure and want to travel the world, UKSA's Superyacht Crew Training course is an ideal starting point for a quick entry to a career on the water. You will receive tuition from instructors who have worked in the industry and the course will provide all the training you need to apply for your first job as a deckhand or crew member. The modular courses at UKSA throughout the year mean you can return later to get additional qualifications to further your career.
What were you doing before you came to UKSA?
I was working in recruitment within the animal health and nutrition industry which I enjoyed but it wasn't a passion.
How did you hear about UKSA and what made you do the Crew Training course with us?
During the pandemic I was furloughed for 6 months. During this time I realized I needed a new career that was outside and enabled me to travel. So I looked at teaching abroad and yachting. In doing so I came across the Edmiston superyacht crew training course and my mind was made.
Did you receive assisted career funding for the course? If so, who from?
I received assisted career funding from Edmiston which enabled me to embark on this new adventure. Without the financial assistance from Edmiston I would probably not been able to follow my dreams.
If you received funding, how did it help you with your future ambitions?
It enabled me to do a course very quickly which meant I have been able to get work in yachting.
What was life like at UKSA?
It was good fun, but hard work as you needed to put in a lot to get the most out of the course.
Describe your 3 highlights of UKSA
Tender operator, PWC, STCW
What is it like in the Superyacht Industry?
It's hard work due to the long and sporadic days along with constantly learning new things. I've learnt a lot, how to tap new screw holes, use grinders, dremels and other tools. Line work when docking the yacht. Wash downs, cleaning teak and general maintenance of the yacht. I've also learnt how to use and operate toys such as electric hydrofoils and wakeboards etc.
I've travelled to Italy and Thailand, working on two different yachts. My first contract was only short term but it got my foot in the door and now I have a permanent contract. The crew on both have been great and very helpful teaching me how things are done. A challenge that I've faced is learning how to do the line work when docking in a calm manner, as at first it all seemed very hectic.
What advice would you offer someone considering our Superyacht Crew Training course?
If you are looking for a challenge that is extremely rewarding with lots of new experience I would highly recommend you do the course.
Find out more: