A real alternative to University
Uni not for you – so what are your options?
We offer a credible alternative to university, giving you the opportunity to enter the workplace with qualifications, skills, real-life experience, a network of colleagues and debt-free.
World-class training that really takes you places
Launch your career
A career in the marine industry offers a unique working environment with endless opportunities for travel, personal growth and career progression. With the opportunity to live and work in some of the most beautiful locations in the world, it's easy to see why so many people choose to pursue a career in the marine industry.
We are proud of our hard-earned reputation and as one of the top training providers in the world, we launch the careers of hundreds of students each year. The key to our reputation and your success lies in the quality of the training we provide, our deep understanding of the industry and the on-going support we offer our graduates throughout their careers.
Where can I work?
The world really is your oyster when you graduate from UKSA with a professional qualification. From working in the Arctic Circle, to the luxurious Mediterranean or stunning South East Asia, our alumni are working in a variety of roles and literally living the dream around the world.
The marine industry offers a huge array of roles to those willing to dedicate themselves to hard work and commitment, including roles as deckhands, officers, hosts/hostesses, watersports instructors, sailing instructors and yacht skippers.
Do something you really love
If you already have a love of being on the water and want to know how you can build a career around it, we can help!
Whether you love to sail, or your passion is watersports we offer a range of courses that can help you hone your skills, perfect your teaching technique and put you in front of the right people to secure your first position.
If you have great people skills and would like to learn more about high-end hospitality in some of the most glamourous locations in the world, our hospitality and fast-track crew training courses can open up an array of opportunities.
Put yourself in the driving seat
Our professional training programmes are developed in close consultation with leading industry operators to ensure they foster the skills and personal qualities demanded by employers. Our key objective is to put you in the best position to succeed and our team will work with you every step of the way, propelling your career forward and giving you the tools to succeed.
Our professional courses include:
We have various funding available to widen access to our courses, please view our funding pages for more details and the options available.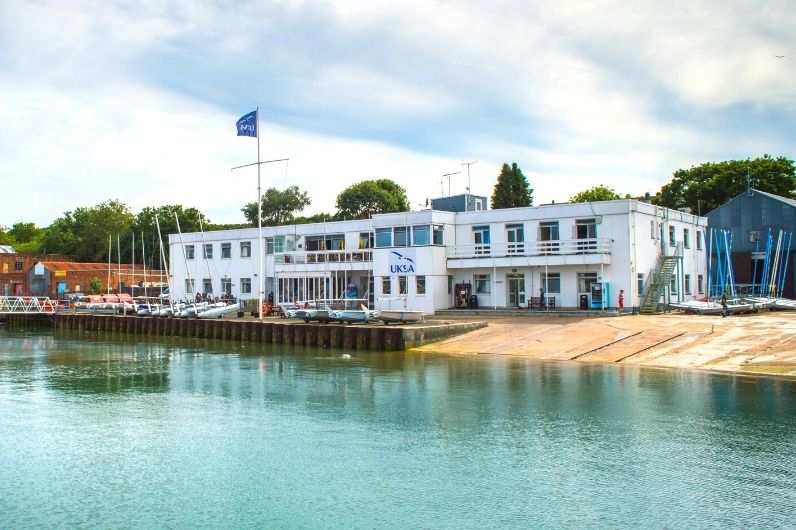 Why UKSA?
Our 4-acre waterfront campus is situated in Cowes on the Isle of Wight, the home of yachting. Our all-inclusive packages make your training with us straight forward and hassle-free, as you can live, learn, eat and socialise on our site. Our campus provides a great learning environment, plus the opportunity to meet fellow students. It's a work hard, play hard vibe at UKSA and you're guaranteed to leave having made lifelong friends!
Develop and hone your skills to propel your career with our team of industry experts, whose teaching, support and mentoring will ensure you maximise your time with us. Our industry guidance team are on-hand with pastoral support, one-to-one mentoring and can help with your CV and interviews. We work closely with top watersports employers such as Neilson, Mark Warner and Ocean Elements with our in-house placement service boosting your chances of finding a role.