UKSA superyacht cadetship graduate Holly Barnard, 24, has landed a dream role as a second mate on board Pangaea's SV Sea Dragon.
Holly from Nairn in the Scottish Highlands learned to sail recreationally as a child, experiencing lots of different watersports and later rediscovered her love of sailing. She dropped out of university to begin instructing windsurfing and sailing full time, before later completing further training at UKSA for a professional maritime career with its superyacht cadetship course.
Without the financial means to afford the training, Holly benefitted from Trinity House's bursary fund which allows students to access careers in the yachting industry regardless of their situation.
Holly had followed the work of Pangaea Exploration and 'eXXpedition' for a number of years via social media and it was through its instagram account that Holly found the second mate position on the 72ft Sea Dragon, a 90,000lb displacement steel hulled sailing vessel built in the UK in 2000. Following an online interview, Holly was offered the position on the spot and flew out to Victoria, British Columbia the following month where she began deck maintenance the following day.
"Every day is an adventure," said Holly. "Exploring unknown territories, meeting wildlife and being able to sail to areas only accessible by boat is pretty spectacular. I've always loved being on and in the ocean, so living and working on it is a dream come true. I love travelling and discovering new places and cultures and being able to share these experiences with our guests and making their time on board unforgettable."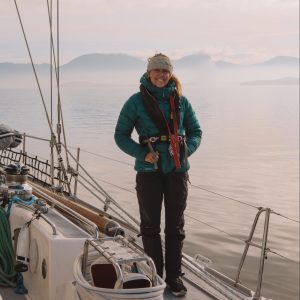 When talking about what Holly's learned from working on board she said: "I'm constantly building my broad skill set, solving different problems and learning from my colleagues' experiences. My instructor background has enabled me to effectively teach guests how to safely handle a large vessel and teach basic navigation. I'm also proud that I've become a bit savvy when it comes to plumbing, deck repairs and maintenance."
Detailing where she's been since joining the crew, Holly said: "I joined the boat in Victoria B.C, where we sailed North through the infamous Inside Passage to Ketchikan, Alaska. Shaped by the staggering forces of massive glaciers millions of years ago, the Inside Passage stretches 500 miles along the Pacific Ocean and is full of hidden and untouched inlets. We've been so lucky to explore trails only accessed by local bears, wolves, swum in natural hot springs, waterfalls and glacier waters, we've even eaten dinner on beaches only populated by seals, otters and seabirds. I've felt so lucky to have seen such a vast array of wildlife too. From breaching pods of humpback whales and orcas, to porpoises, bears and their cubs as well as eagles diving for fish and swimming with wild salmon the length of my leg."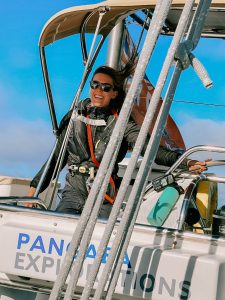 The dream job doesn't come without its challenges and Holly doesn't shy away from being honest about those. "It is challenging spending long lengths of time away from family and friends and sometimes we're without a phone signal for weeks at a time. Due to a strict itinerary and time schedule it's hard to sail past places that you would like to explore more of, but I have made a note of the places I'd like to revisit, and one day I will return. For now, I'm thankful to have very supportive family and friends despite missing those special occasions and am getting the opportunity to travel the world and live my dream."
James Potifer, cadetship manager at UKSA said: "Hearing a story like Holly's is what it's all about at UKSA and seeing students fulfil their potential and leave us fully equipped to take on maritime roles they've trained for is the ultimate reward. We're always welcoming back former students who have gone on to do great things and join us again to further their knowledge for their next adventure. The funding from Trinity House was crucial in Holly being able to complete her course and the funding options we have available ensure there are no barriers for students who want to pursue a career on the water."
Find out more about the Superyacht Cadetship Programme