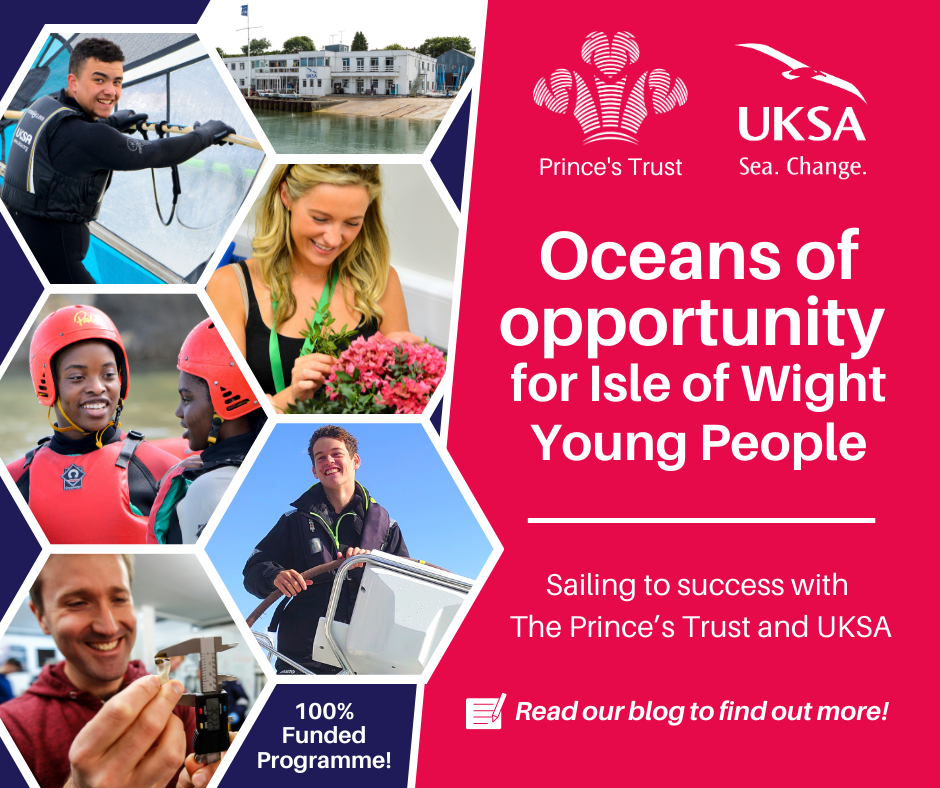 Oceans of opportunities for IOW Young People
Island Charity UKSA, is proud to announce that it has joined forces with The Prince's Trust to give IOW young people the chance to find their dream career in maritime. 'Get Started with Sailing' is a fully funded 5-day programme that has been developed by UKSA as part of their Sea.Change Foundation.
UKSA's Sea.Change Foundation is a new inspirational funded programme that will provide young people the opportunity to visit UKSA for 5 days over the school holidays. It will enable young people to experience a wide range of water-based yachting and watersports activities, including paddle-boarding and keel boating.  These taster sessions on the water, will be delivered alongside classroom-based learning, with industry experts to showcase the pathways and breadth of careers opportunities in the maritime sector.  We aim to remove both financial and social barriers to enable a young person from any background to achieve the best version of themselves and gain life changing experiences, qualifications, and employment.
Supported through the generosity of a philanthropic donation to the Prince's Trust, UKSA is offering 10 Isle of Wight 16-19-year old's the opportunity to join the pilot 'Get Started with Sailing' programme during the October half term. The non-residential programme will run from UKSA's base in West Cowes, Isle of Wight from 19th-23rd October 2020. UKSA will provide all training, food, and equipment so all that is needed is a sense of adventure and an eagerness to explore new opportunities.
Ben Willows, UKSA CEO comments: "Even before the current Corona crisis gripped the world, UKSA believed all young people had a need; to be inspired, to have their horizons broadened or simply to have their barriers to opportunity removed. In the current environment never has that desire been more important. The Sea.Change Foundation is being launched to help ensure we can be there for the thousands of children and young people for whom outside and adventure learning can make an extraordinary difference. I thank Prince's Trust for their support to be able to offer this exciting pilot programme to our Island young people
Jonny Brason, Senior Operations Manager for the South Coast, from The Prince's Trust adds: 'All our initiatives are designed to enhance confidence and life skills, and build aspirations, to help young people to realise their potential and successfully prepare for life's transitions into employment. We are delighted to work with UKSA to offer this amazing opportunity to IOW young people."
If you'd like to sign up or learn more, please contact Ashleigh Gibbs on [email protected] or 01983 301901. Spaces are limited and will be given on a first-serve basis.
About The Prince's Trust
The Prince's Trust helps young people all over the UK to build their confidence and skills and supports them into jobs, education, and training. Founded by The Prince of Wales in 1976, the charity supports 11 to 30 year-olds who are unemployed, struggling at school and at risk of exclusion. Many of the young people helped by The Trust are in or leaving care, facing issues such as homelessness, mental health problems, or have been in trouble with the law. The courses offered by The Trust give young people the practical and financial support needed to stabilise their lives, helping develop self-esteem and skills for work. Three in four young people supported by The Prince's Trust move into work, education or training.   
The Trust has helped over a million young people to date. Further information about The Prince's Trust is available at princes-trust.org.uk or on 0800 842 842.
Useful links