It's National Apprenticeship Week in the UK and in partnership with The Marine Society and Sea Cadets (MSSC) and the Isle of Wight College we are delighted to share our range of training options for apprenticeships, helping to expand the number of young people training and working as apprentices in the maritime sector.
The training that we deliver for apprenticeship schemes provides young people with employment in specialist sectors within the marine industry – specifically ports, harbours and near coastal routes.
UKSA works in tandem with several maritime companies including Seacat Services, Veolia, Red Funnel, Cowes Harbour Commission and Williams Shipping and has a further 30 apprenticeship places to fill this year.   With growing employer demand for relevant skills in the maritime sector we are looking to engage with new employers so we can recruit more apprentices across England.  There is no cost to employers for the training and if you have been awarded an apprenticeship levy and don't use it, you lose it!
Apprentices can undertake the one year Level 2 Port Operative Apprenticeship or the two-year Level 3 Workboat Crew Member Apprenticeship. The Port Operative Apprenticeship prepares you with everything you need to safely and competently carry out port operative duties. Port operatives play vital roles in allowing businesses and organisations to deliver goods and cargo safely and on time. They are responsible for loading, unloading, handling and storing cargo from container and transport vessels at a port.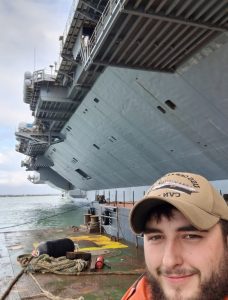 The Workboat Crew Member Apprenticeship is designed to give young people all the skills, knowledge and behaviours to work on a wide variety of specialist vessels. These range from tugs and multi-purpose workboats, to fast pilot boats and crew transfer vessels taking personnel out to vessels or installations offshore. Workboats operate in varying marine environments such as construction of offshore wind farms, providing a range of services within a port or inland waterways, including surveys and towage. They may also act as support vessels in major salvage operations and wreck removal.
"Following the current and ongoing success of the Workboat Crew Member Apprenticeship with UKSA and the Isle of Wight College we are going to run another apprenticeship and propose a further intake of six persons in 2023" Rob Cook, Operations Director of Seacat Services.
"The current four candidates are performing extremely well from our side, with nothing but good feedback. Collaboratively, with UKSA, we've been able to select the right sort of candidates and provide them with the foundational knowledge and qualifications to set them on the right path."  
Cook goes on to say "The apprenticeship provides the professional pathway for individuals to progress in a career at sea. We've always advocated professional development from within the company, with one of our first apprentices becoming a vessel master for us and three others still with us to this day (not including the current intake)."
"Within the maritime sector, there is a significant and ongoing significant skills shortage and we would welcome a further intake, as would our entire growing sector..  For the right candidates, together with UKSA we can provide people with a crucial stepping stone into a career in the workboat industry."
UKSA: For more information on UKSA and its apprenticeships please call Phil Hoar on +44 (0)1983 294941
You may also be interested in: