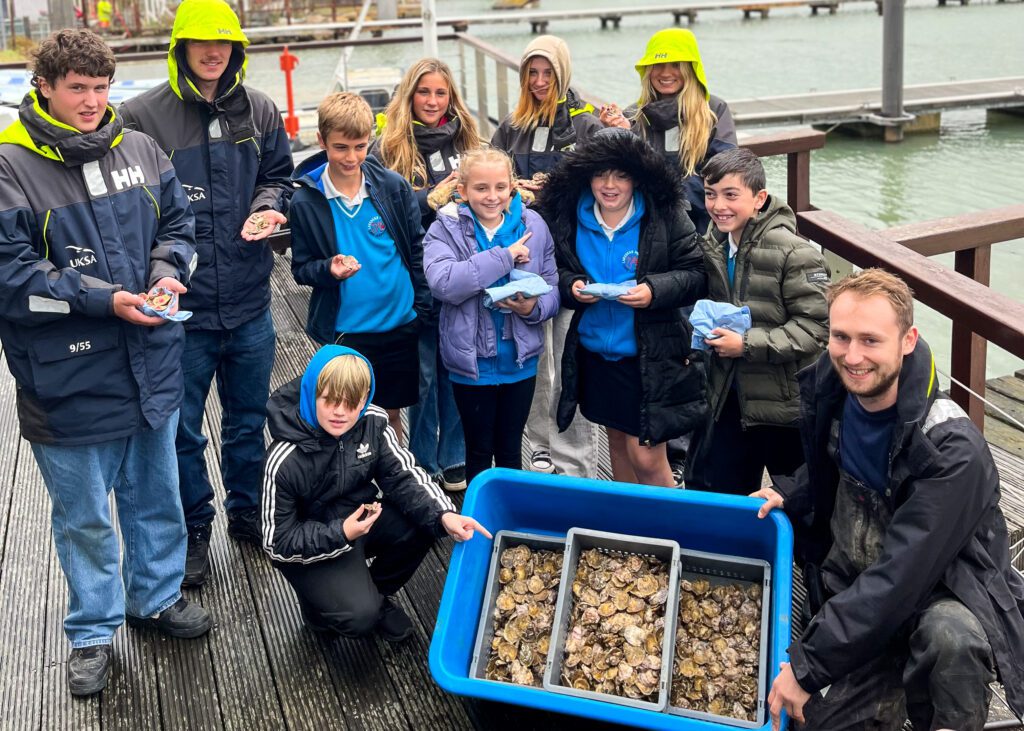 Today, UKSA officially launched the Isle of Wight's first oyster regeneration project in partnership with Blue Marine Foundation as its first oysters were placed in baskets beneath UKSA's pontoons to breed.
The Cowes based charity, which provides life-enhancing water-based adventures, education, and world-leading maritime training, welcomed children from Lanesend Primary School on the Island together with guests including Cowes Harbour Commission which is funding the baskets and the initial oyster stock to enable the project to get underway. This followed a visit by UKSA with a number of its students to Blue Marine's base at University of Portsmouth last week to perform the cleaning of the oysters ahead of them being transported to the Island for installation.
The project will facilitate the release of millions of larvae into the Solent, while also providing refuge for other marine life including endangered European eels, young seahorse and sea bass. As ecosystem engineers, UKSA's oysters will provide a range of benefits to the environment and people such as improving water quality, with a single oyster able to filter up to 200 litres of water every day. They also act as a natural defence to coastal erosion.
Ben Willows, CEO of UKSA said at the launch: "We're excited to launch the oyster regeneration project today with great thanks to all those who have made it possible. It is a significant step forward for sustainability on the Island and we're very proud to be housing the project at UKSA. This project is a great start in making a difference in the marine environment UKSA calls home."
Eric Harris-Scott, Solent Project Officer at Blue Marine who talked through the project at the launch said: "Projects like this are a real team effort and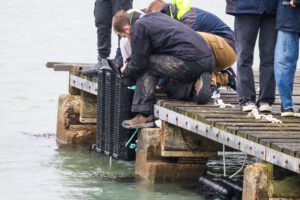 the support of businesses like UKSA to enable our restoration work to grow is vital. We're grateful for the efforts of all those involved to get this project off the ground and into the water today, and look forward to seeing how the oyster nurseries progress on the Island."
When the project was initially announced, Gary Hall, CEO at Cowes Harbour Commission said: "We are delighted to be working with UKSA and the Blue Marine Foundation on this very important project for Cowes Harbour because it forms part of our five-year strategic plan and a commitment to deliver the sustainable management and conservation of the harbour, estuary and local environment."
Despite the last known oyster fishery on the Isle of Wight closing in the 1970s, between 1972 and 2006, the Solent supported the largest native oyster fishery in Europe, however the oyster population has declined significantly and the fishery collapsed in 2013. Native oyster reefs in the UK have declined by 95 percent due to overfishing, pollution, disease, habitat loss and other pressures. Native oysters are classified as a priority species in the UK's Biodiversity Action Plan and restoration is a high priority at a national, European and global level with an estimated 85 percent of oyster beds and reef habitats lost worldwide. Since 2015, Blue Marine Foundation has restored over 150,000 oysters using innovative nursery systems and creating oyster reefs, and has developed a strong working group in the Solent.