UKSA recently welcomed its Patron Her Royal Highness The Princess Royal to its Founders' Club dinner event to share some of the inspirational stories of beneficiaries the charity's fundraising has contributed to.
The event, held at Trinity House in London, welcomed supporters to hear from the world's largest RYA centre and UK maritime charity about its current impact and future plans. Its work empowers young people to reach their potential by building essential life skills, using the power of the sea. The event was attended by HRH The Princess Royal, who has been a patron of the charity since 1992.
Founders' Club members pledge an annual commitment to UKSA, providing vital funds to remove barriers to outdoor learning and maritime training. In turn, members have the opportunity to attend events, meet UKSA ambassadors, patrons and beneficiaries as well as get involved with water-based activities at UKSA including during Cowes Week. Donations help fund wellbeing sessions for young people needing support with their mental health, aid places on the charity's Sea.Change Foundation programme to learn more about maritime careers and help support disadvantaged children to attend residential visits to the Cowes based provider.
Sylvia Lister, the Patron of the Founders' Club said: "Thirty-five years ago, my late husband, Noel, and I set up UKSA. We were inspired by the impact that sailing had on our own lives, from competing in international competitions to sailing around the world on our yacht, Whirlwind XII. We knew we had to pass our passion to the next generation. We wanted to enrich, challenge, inspire and educate."
Dinner attendees were joined by Adame Ahmed, one of UKSA's students who initially participated in the funded Sea.Change Foundation Programme and has gone on to take part in the two-year Adventurous Outdoor Activities: NCFE Level 3 Diploma course. Adame is currently working over the summer in its watersports team before studying to become a superyacht captain with the charity's Superyacht Cadetship four-year course.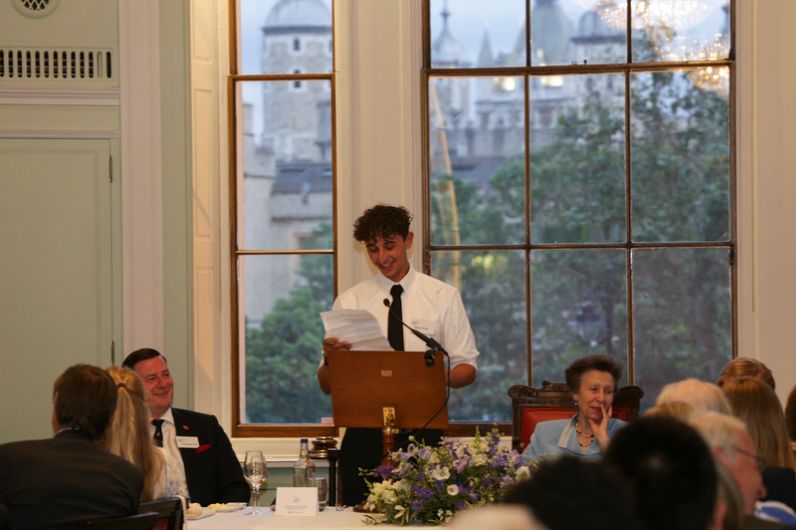 Ben Willows, UKSA CEO said: "Fundamentally, we use our passion for the sea and water-based activities to ensure children and young people can have the brightest future available to them by transforming their lives. Whether that's through residential visits, our Sea.Change programme, our funded options or our career pathways, we want everything to be available to everyone. It was wonderful to welcome Her Royal Highness to this special event to celebrate the impact our donors and Founders' Club members have on the lives of children and young people."
You can find more information about UKSA's Founders' Club here.
Useful links: