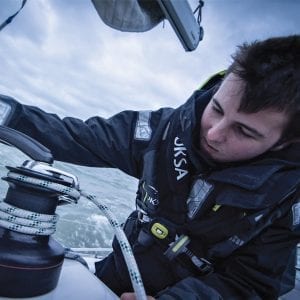 Taking one of UKSA's many courses can help you secure a rewarding job and embark on an exciting career in the maritime industry. Iain Walsingham, a student on UKSA's Professional Yachtmaster Offshore course, shares his story:
UKSA Yachtmaster interview
What were you doing before you came to UKSA?
Having graduated from the university of the highlands and islands with a marine science degree I joined PGL as first an activities instructor before being promoted to watersports team leader.
How did you hear about UKSA and what made you do the Professional Yachtmaster Offshore course with us?
Working on the Isle of Wight I heard about the UKSA Professional Yachtmaster Offshore course from former employees and through general island life. I was sat across the Medina with my parents having a meal at the Lifeboat and pointed to UKSA to say that they offered a Yachtmaster course. My parents turned around and said "sign up and do it, or you're an idiot!". From that point onwards it was just finding the right timing for the course and organising the handing in my notice. Having worked in the maritime industry as a senior dinghy instructor, a Yachtmaster was the next natural progression in my career due to the wide range of career options it opens up post qualification.
Describe your typical day at UKSA
Long, intense but extremely rewarding. You get out of the course what you put into it and you're always learning – whether that's how to live in confined spaces with strangers for weeks on end; boat handling and manoeuvres or the vast amounts of theory that is required to pass the course!
What were the three main highlights of the course?
I really enjoyed fire-fighting, it was an incredible experience. Being a true sailing nerd, I've also loved learning all the Yachtmaster theory side of the course and then finally just the endless sunsets/sunrises without a care in the world besides how many dolphins you're going to see that day. When you're on a sea phase you lose track of the outside world and life just simplifies down to you, your crew and the boat and what you fancy doing for the day.
Describe your first sea phase
We had one of the coolest guys I've ever met called Dan as an instructor and spent the week constantly laughing, joking and smiling while sailing around the Solent. We learnt all the basics of sailing yachts and boat life while doing lots of crew bonding activities and generally trying to have as much fun as possible.
What would you like your first job to be?
Being extremely competitive I'd love to get onto a big around the world race being paid to sail to loads of cool places while racing. If I could find some way to combine this with my love of helping and teaching people in some form and still keeping my dinghy interest, that would be the ideal combo.
What are your future career aspirations?
Racing around the world on a professional team and teaching/helping out under privileged kids to get into this awesome sport and lifestyle in my free time. This would be to give them the chance to experience something they might not be able to without the help of say a charity. I've always had a keen interest in photography, especially marine photography and look forward to using these skills out in the industry. Some of my photographs which I have taken on the course can be viewed here.
What advice would you offer someone studying at UKSA and considering our Yachtmaster course?
Be prepared to be constantly tired, exhausted and have a massive smile on your face. You get out of the course what you put into it and all the instructors are happy to go the extra mile if you show the interest and work ethic.
Find out more:
Professional Yachtmaster Offshore