A warm welcome from UKSA's CEO, Ben Willows
UKSA – A unique place to train, learn and grow
We are passionate about UKSA; the students, the thousands of children that visit us each year, the team and our awesome waterfront base in Cowes, on the beautiful Isle of Wight. But what makes UKSA so special and why do people come back here year after year? We would love to share more with you about UKSA, so please get in touch with our team.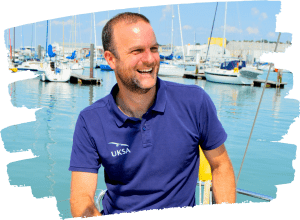 Ben Willows, UKSA CEO
 Our team and past students share their thoughts..
"UKSA is an incredible organisation. I love to see the positive change that can happen between a child's first visit here and when they return for a careers programme to train for employment in the maritime industry. UKSA offers such enormous benefits, both physical and psychological, and has such a strong and wide-reaching impact on people's lives."
Chris Frisby, UKSA Director of Training and Operations
---
"Our students love coming to UKSA as they can instantly feel the enthusiasm of the instructors and they usually already know us by reputation!"
Claire Arnold, UKSA Watersports Instructor
---
"The best thing about UKSA? I think everybody says the same thing on this one because it is simple – breakfast! On a more serious note, really it's the people; just good people trying to help others achieve their goals."
Will Satterley, UKSA Careers Manager
---
"The best thing about UKSA is definitely the people. It is a very inspirational place to work and everyone wants to be here and see our students succeed."
Richard Baggett, UKSA Head of Yachting
---
"UKSA has a genuine family feel, with friendly staff and great communication across the team. After a few days at UKSA everyone will know your name and you will feel reassured by the fact that our doors are always open if you would like a confidential chat."
Kim Fry, UKSA Welfare Officer
---
"The vibe on UKSA's campus is fantastic. All the students and staff are chatty and friendly. I really felt at home. The bar was a great place to play pool and relax with my new mates."
Sam Reading, Watersports Instructor Training student
---
"The skills that you will learn whilst training at UKSA will set you up for life, at sea and beyond. The people you train with and meet will become lifelong friends and colleagues who will follow you and turn up at the four corners of the globe."
Reg Kheraj, Watersports Instructor Training and Professional Yachtmaster student