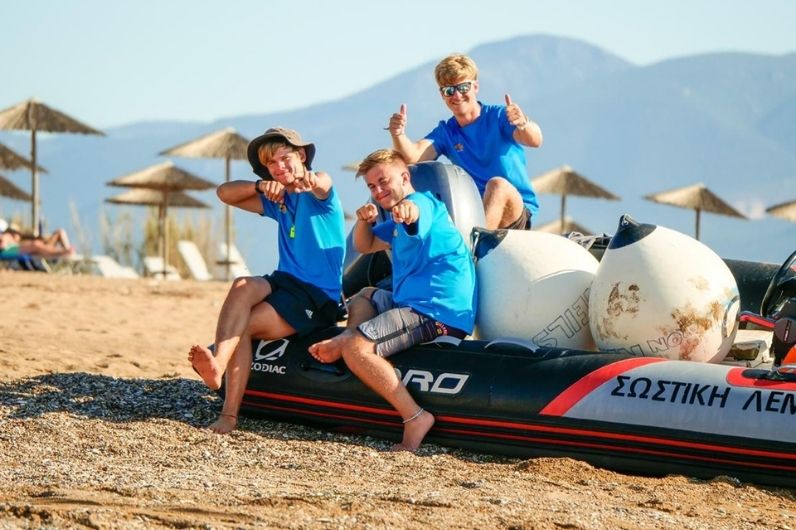 Our fully-funded Further Education courses have been designed specifically for students who want to embark on exciting and rewarding careers in watersports instruction, the leisure industry or in yacht training. We catch up with Tyler Jacobs who is planning to return to UKSA after completing his Further Education course to embark on a brand new adventure as a Professional Yachtmaster student.
What were you doing before you came to UKSA?
Before UKSA I was in school where I really struggled to get on with being stuck in a classroom. I always knew that I wanted to do something practical with my life! I went to the Isle of Wight College where I studied computing and soon realised that halfway through my course, I knew this wasn't the route I wanted to go.
I always had UKSA as a option in my head but I thought there wasn't any way I could make a career out this line of work, but I was very wrong! I soon found myself attending one of UKSA's career open days and immediately signed up for the Adventurous Outdoor Activities: NCFE Level 3 Diploma course!
How did you hear about UKSA and what made you do a Further Education course with us?
I found out about UKSA when I was in school. I wasn't the best behaved kid so I was sent to UKSA which is where I experienced sailing for the first time.
Before joining the Further Education course, had you already gained any sailing experience or qualifications?
I never sailed before except for when I was in school because I never had the money or facilities for sailing, that's why UKSA is great! They help young people experience different sports that a lot of kids will never do in their life!
Describe a typical day at UKSA
Due to heavy coursework, we were based in the classroom for large portion of the course, however we would go sailing and windsurfing once a week which I absolutely loved. I had the best tutors (Kristina & Phil) who really pushed me to get the best out of me, even when I'd given up on myself they would push me and made me excel in both sports and my class work!
Describe your 3 highlights from the course
I loved the sailing instructor course. Everything clicked into place for me when it was a windy day with the tough sailing conditions. I really proved myself, I was ecstatic, I really pushed myself and it payed off! Another favourite moment of mine was cleaning the islands beaches as this is so important because we love the water so we should take care of it.
Cleaning the beaches with my friends really made us feel we were making a difference to our oceans and surrounding environment! My biggest achievement was when I went from hating windsurfing, to turning it into my passion. At first, I didn't understand why people loved the sport, but now I'm trying to better myself by improving my skills and techniques where I can.
What are your future career aspirations?
In 5 years I see myself climbing my way through the yachting industry and hopefully be a bosun onboard a yacht. The way I'm going to approach this is to go back to UKSA this November to do the Professional Yachtmaster Offshore course.
What advice would you offer someone considering Further Education after School?
The advice I'd give is to follow your heart, at first I didn't follow mine and just thought about making money rather than doing something I truly have a passion for. When I finally decided to join UKSA my life changed for the better it made me finally happy with life. UKSA has the best tutors and instructors that will push and find a way for you to excel in whatever career you pursue in maritime.
Discover your own pathway into maritime