Sea.Change Foundation
UKSA's Sea.Change Foundation
The Sea.Change Foundation is an inspirational programme that will provide 14-18 year olds the opportunity to learn about training and careers in the maritime sector through a visit UKSA for 5 days over the school holidays.
About the foundation
---
The Sea.Change Foundation will enable young people to experience a wide range of water-based yachting and watersports activities. Alongside this there will be classroom-based learning to showcase the pathways and breadth of careers opportunities in the maritime sector. We will work with our partners to ensure the content is relevant, topical and engaging. It will be piloted with young people from the Isle of Wight in partnership with The Princes Trust in October 2020, with a full roll out in 2021
So many children and young people were already missing out on life-changing opportunities because schools, local authorities and parents simply could not afford to pay for them. The current COVID-19 crisis and resulting impact, including the closing of schools for several months, has only exacerbated the fragility of these young peoples' mental health and further driven a reliance on 'screen time' and social media through this period of forced isolation. Our outdoor learning programmes on the water are the antithesis to this and these children and young people will need UKSA now more than ever and our education partners like the E-ACT Academies are eagerly awaiting the opportunity to return to us.
The Education Policy Institute's Education in England Annual Report 2019 found that, in England, young people eligible for the pupil premium were, on average, 18 months behind their peers in terms of academic attainment by the time they reached their GCSE's. In some places this gap was 24 months. Young people who have experienced violence in childhood or who have been involved with children's services are also more likely to commit criminal offences (Hopkins, Webb & Mackie, 2010).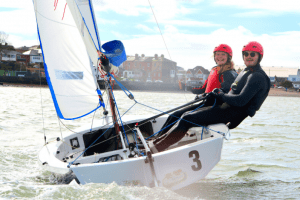 In addition, those young people considering their futures and approaching school leaving age have also been greatly affected. Youth unemployment is predicted to hit 1 million with many young people losing jobs and a reduction in the number opportunities available to theme (Resolute Foundation). Research conducted by The Princes Trust during the March – July lockdown period reveals how more than a quarter of 16-to-25 year olds (29%) feel their future career prospects have already been damaged by the coronavirus pandemic, while 46 per cent say that finding a job now feels "impossible". This is a significant increase compared with similar research conducted just five months ago. the current crisis may reduce the employment chances of lower-skilled young adults leaving education by more than a third, even years down the line (Resolute foundation)
These findings, which highlight the debilitating impact that childhood disadvantage can have on outcomes in later life, are not acceptable. Action is needed to help to support these young people, equipping them with the resources they need to make successful transitions into adulthood and into employment.
UKSA's Sea.Change Foundation is about ensuring we can be there for the children and young people for whom outside and adventure learning can make sure an extraordinary difference.
We aim to remove both financial and social barriers to enable a young person from any background to achieve the best version of themselves and gain life changing experiences, qualifications and employment.
We will be specifically targeting beneficiaries from right across the UK including:
Children and young people who may not otherwise be able to access maritime or outdoor adventure opportunities
Young people in need of confidence and life skills development to aid with transitions into adulthood (e.g into education, employment or general day-to-day life)
Children and young people with disabilities and / or additional needs and who need extra support
Young people at risk of exclusion from school and / or those at risk of offending or re-offending
Young people who would benefit from an alternative learning environment
Young people who have an interest in a maritime career
How you can help
---
We can't do this alone. We want to help 1000 additional children and young people over the next three years and so are aiming to raise £300,000 over three years. Contact us here or donate to our Sea.Change Fund below.