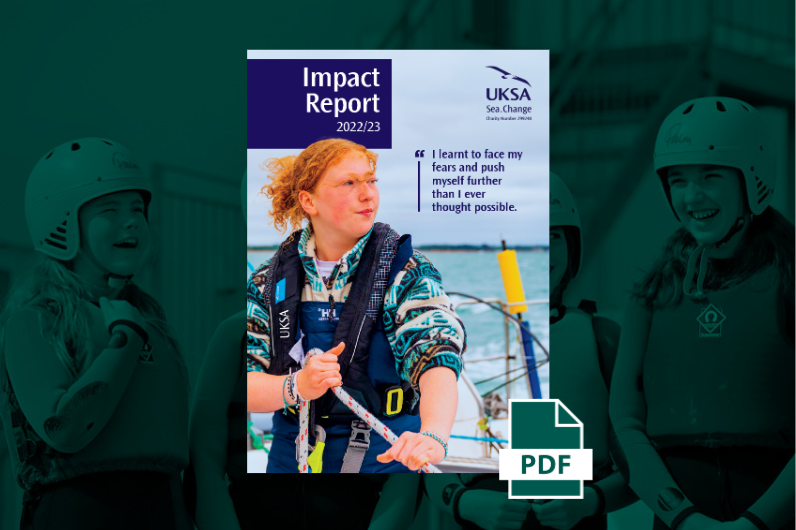 UKSA has released its annual Impact Report which reveals record figures for the charity for its 2022-23 year.
The world's largest RYA centre and UK youth maritime charity announced 10,590 beneficiaries during 2022 with 33 percent of those funded by UKSA, as it continues to ensure there are no financial or social barriers to young people being able to experience life-enhancing water-based experiences at its Cowes headquarters on the Isle of Wight.
The charity's Sea.Change Foundation programme, a five-day residential aimed at 14–17-year-olds, welcomed nearly 300 beneficiaries in the 2022-23 year with 18 of those going on to join its two-year Further Education programmes. As part of its professional training designed for students over 18 who would like a career in watersports, yachting or superyachts, it reported a 97 percent pass rate for its careers students in 2022.
A record 72 Further Education students were enrolled at UKSA at the start of the 2022 programme,  boasting a 99 percent success rate for those graduating at the end of the year and 98% of year one students returning for year two.
As part of its work with maritime employers, UKSA welcomed 12 apprentices aged 25 and under to start a two-year programme with the opportunity of full-time employment at the end, should they prove successful. As a world-leading provider of MCA professional training, UKSA works across the globe to deliver training and qualifications to help address the shortfall in qualified seafarers and continue to support maritime career development. This includes 1,540 MCA beneficiaries welcomed in 2022-23, delivering 389 courses to students from 49 countries.
One of the stories highlighted in the report is of Badr Ahmed, who arrived in Blackburn as an asylum seeker and subsequently faced unprecedented challenging times including a return to Yemen for a holiday which resulted in a four-month imprisonment trapped in a war-torn country after all the airports had been bombed. Badr first attended UKSA for its Sea.Change Foundation programme in 2021 with his school Tile Cross Academy and following his first visit Badr returned to school determined to become a superyacht skipper "my experience at UKSA opened a whole new world of learning for me outside the classroom." He revisited UKSA in 2022 and now plans to enrol on UKSA's cadetship programme when he finishes his A Levels.
Neil Mackintosh, head of social mobility at Tile Cross Academy said: "Badr has seized all his opportunities and the skills and attributes he has developed are as a result of attending courses at UKSA. This has enabled him to gain a fully-funded bursary to attend Marlborough College through the Royal National Children's Springboard Foundation."
During the 2022-23 period, UKSA welcomed 6,498 young people from schools and groups enabling them to experience the importance of outdoor learning and out-of-classroom experiences. Forty percent of those were fully funded as part of 28 residential school visits. UKSA reported a significant improvement in self-belief which was shared as part of the charity's Skills for Life assessment. This includes communication, decision making, participation, self-belief, determination and resilience.
Sally Hodgson, Headteacher at Beacon View Primary School in Portsmouth which attended UKSA for a five-day adventure said: "We are truly grateful for the funding which allowed us to bring 43 children to UKSA. Our families would not have been able to afford the trip without this sponsorship as some would have had to choose between food, heating and the trip. We have seen our children present more focus, increased positive attitudes and a big increase in self-worth."
Ben Willows, UKSA CEO said: "I'm really pleased to be able to share our latest Impact Report which highlights not only some really positive statistics, but also shares some of the stories and positive changes we have had on so many lives. The continued support of our donors and supporters is vital in us being able to continue to transform so many lives and for that we are so grateful."
As well as a record number benefiting from UKSA, the charity has also continued its crucial work to improve students' wellbeing while on site. This includes over 500 young people being supported on a one-to-one basis across all sectors and delivering its Maritime Mental Health Awareness and Wellbeing Training to over 450 adult students.
To view the full Impact Report click here.